If you're still using paper work orders or Excel spreadsheets to run your mechanical shop, it's probably time to go digital and stand out from your competitors by controlling your costs and increasing your margins! Be better equipped to increase reliability and reduce maintenance costs of your fleet by opting for mechanical workshop management software.
How Will a CMMS Software Give a Competitive Advantage for Fleets?
To answer this question, we present 10 ways to differentiate yourself from your competitors with a CMMS software.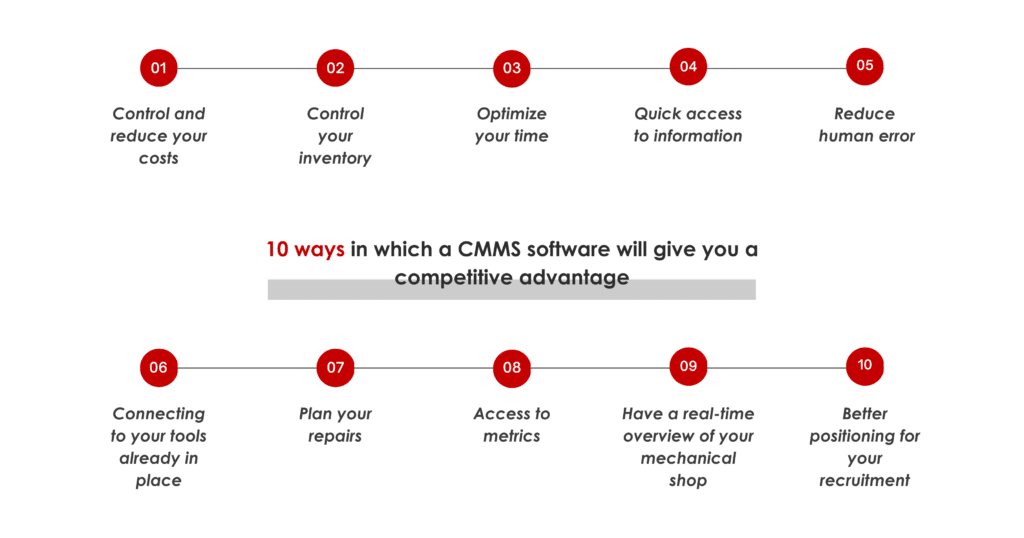 1- Control and Reduce Your Costs  
The first thing a CMMS software does to set you apart from your competition is to give you better control over your expenses. The cost of parts, labor and all other expenses will be recorded each time on your work order and will create a central database for all expenses related to maintenance. By running an expense report, the fleet maintenance manager will be able to see where the budget has been spent and make strategic decisions about assets and expenses. For example, the software will help the fleet maintenance manager plan inspections and preventative maintenance tasks, so that he can spot small problems before they have a chance to turn into big problems that can blow your budget.
When all of your fleet maintenance information is in one place, your maintenance processes are automated and you can better observe the cost of your operations, your expenses will be reduced, you will be able to stay on track of your budget and generate huge savings. By generating savings, you will be able to increase your profit margin allowing you to invest in other areas of your business.
2- Control Your Inventory
CMMS software will allow you to track your inventory in real time without having to use Excel files or endless lists. Thanks to the software's automation processes, your maintenance team will no longer have to worry about missing critical parts, since the software will notify them when it is time to re-order. In fact, your software should establish a minimum and maximum on the quantities of parts you want in inventory. Ordering parts in advance, will save you time and money by avoiding last minute shipping costs. When a mechanic needs a particular part for a repair, the right software will allow them to request parts directly from the garage. Having better inventory management, your mechanics won't have to wait for parts anymore and your trucks will be back on the road faster.
3- Optimize Your Time
When mechanics arrive on the job, it is important for them and for the fleet maintenance manager to know the workload ahead so that there aren't any overdue inspections or units waiting for repairs. By optimizing the arrival of units to the garage and knowing quickly what to do with them, your units will be repaired and back on the road faster. A good CMMS software will have a module designed specifically for the garage which will allow mechanics to connect directly using an RFID chip and have quick access to their daily tasks. The fleet maintenance manager will no longer need to create work orders in advance since these will be created automatically in the software when the mechanics open the job. By using Excel files or whiteboards in the garage, your maintenance team risk losing information or even forgetting important things. A CMMS software will automatically fetch all the necessary information in order to fill out forms, reports, work orders, purchase orders, etc. Your maintenance team won't waste time transcribing work orders, searching for operators or rummaging through a binder.
4- Quick Access to Information
A CMMS software centralizes information in a clear and simple way offering tools to generate almost any reports. It is also possible to easily consult the history of everything previously done in your mechanical workshop. Having a dynamic dashboard gives you an overview of your fleet without even having to set foot in the garage. A good software will also allow you to dig straight from the source so you can access the information you want faster. No need to go through a messy file cabinet anymore. Any information needed is just a few clicks away. In a context where you are audited, it is much easier to go and get the requested papers in a quick manner. This will bring strong credibility to your company which at times like these, is very important. By having quick access to information, your maintenance team save time and therefore stress.
5- Reduce Human Error
A CMMS software will allow you to standardize your processes, which will improve your performance and reduce mistakes made by your maintenance team. Automating your processes will reduce data entry by eliminating steps that are normally done by your employees. This will reduce risks of human error and ensure that the data is correct.
For example, during your claims requests, the system will automatically create claims for your warranties. When you are ready to make a request, the software will retrieve all the necessary information and automatically generate the claim form without any data entry, thus avoiding human errors. By greatly reducing potential human error, you not only ensure that your data is correct, but you are also saving a lot of time.
6- Connecting to Your Tools Already in Place
Make sure you choose a CMMS software that can connect to your existing ecosystem, in order to get the most out of each of your solutions. The importance of a good integration will allow you to use the strengths of each tool and avoid the duplication of information. When your CMMS software is connected to your existing tools, automation and planning become easier.
For example, by having your telematics software connected to your maintenance software, the odometers of your vehicles will be updated in real time in the system, and preventive maintenance will be created automatically. This will allow your maintenance team to be proactive and ensure that your fleet is always safe.
7- Plan Your Repairs
Unexpected breakdown and repair can be extremely costly to your organization. Unlike corrective maintenance, preventive maintenance allows you to better structure your mechanical shop by planning your maintenance ahead of time. For the fleet maintenance manager, knowing his workload and what is going down in his pipeline is extremely important, that way he doesn't have overdue inspections or a truck in a shop waiting for repairs to happen. It will also make you save in terms of cost compared to the maintenance you do on your equipment and your fleet. Good software will allow your fleet maintenance manager to have the most optimal planning possible by knowing the available resources as well as the equipment available in the field.
For example, by being connected to your telematics tool, it will be possible to have geofencing to integrate into your fleet management software which will allow the fleet maintenance manager to have the list of tasks that he has to perform, but also to know the equipment that is available in real time in the yard.
8- Access to Metrics (KPIs) and Detailed Maintenance Reports
If you currently don't have access to a dashboard, detailed reports, or KPI's to track, it's your wake-up call that you absolutely need a CMMS software. By optimizing your operations and reducing your costs with a system that allows you to quickly assess reports on your mechanical shop, you will increase your profit margins and be able to make well-informed decisions.
You can't talk about fleet maintenance management software, without Key Performance Indicators (KPI's). A good software should allow the fleet maintenance manager to track his goals and analyze the data effectively. By tracking your maintenance KPI's, you can determine whether the changes you made have actually added value and reduced your costs, or if more efforts need to be put in certain areas. Having good and reliable data, you can analyze it to gain actionable insights on your overall operations.
9- Have a Real-time Overview of Your Mechanical Shop
Effective management of the mechanical shop begins with good management of the tasks of the employees. The mechanical shop management software should allow the fleet maintenance manager to see in real time what the employees are working on and how much time each employee is spending on a task. That is to say to know the standard times, but also the real times that the mechanics have done on the different tasks, allowing him to have access to reports on the performance and productivity of each employee. All this to allow him to make a better planning of the tasks towards the mechanics in order to use their forces.
10- Better Positioning for Your Recruitment
It is no secret that the shortage of personnel is increasing and affecting the vast majority of industries. Companies are starting to lack the resources to attract potential candidates, while demands from customers and markets are growing. Candidates look for good working conditions and companies in which they can grow.
By equipping yourself with mechanical workshop management software and automating your maintenance processes, you demonstrate your interest in continuous improvement and technological advancement. You increase your credibility with prospects and offer attractive terms. This is because employees will have more time doing what they have been hired to do and will spend less time on the computer or on paper entering data, which can be irritating for some. Moreover, they will no longer experience dissatisfaction, for example while waiting for the arrival of parts, and will be able to better optimize their time in the garage. Finally, you will be able to review fleet maintenance costs and make informed decisions whether you keep repairing a truck or simply buying a new one.
Do you want to know more?
Request a demo!