Work orders are a core part of fleet maintenance. Improving the work order process in your company will greatly improve the efficiency of your fleet's maintenance efforts. As part of their job, fleet maintenance managers should consider different ways to optimize the work order management at their company.
In this guide, we will explain what a mechanic work order is, outline the process and describe what a good work order template should include, as well as discuss the importance of having a work order management software.
What is a Mechanic Work Order?
What is a mechanic work order exactly? A mechanic work order is a document (paper or digital) that incorporates all important data about a maintenance task. It will also outline the process needed to complete the job. They will include information such as:
Overall information on the job's scope
The repair date
Who has authorized it
Which mechanic is working on it
The unit number
The work order type (internal or external)
What parts are being used
Work orders assist mechanics and maintenance managers in organizing, prioritizing, completing, and tracking the jobs they are doing. Once the work orders are completed, they will be saved and analyzed if needed to improve efficiencies. Work orders are at the center of your fleet maintenance operations. They drive your maintenance team and help fleet managers better plan the workload for the upcoming weeks. That is why it is very important to have the right tool to help achieve efficient and proactive work order management.

A good work order management system should include a dashboard to help fleet maintenance managers get an overview of important information regarding work orders.

The work order dashboard should include information such as:
Number of open work orders
Number of work orders under repair
Number of work orders waiting for parts
Number of work orders waiting for authorization
Number of work orders completed
Number of work orders per type (internal vs external)
Average time to complete a work order
Average time to close a work order
The work order dashboard should also allow you to filter the information by branch for a specific period or for a time range.
What is the Work Order Process With a CMMS Software ?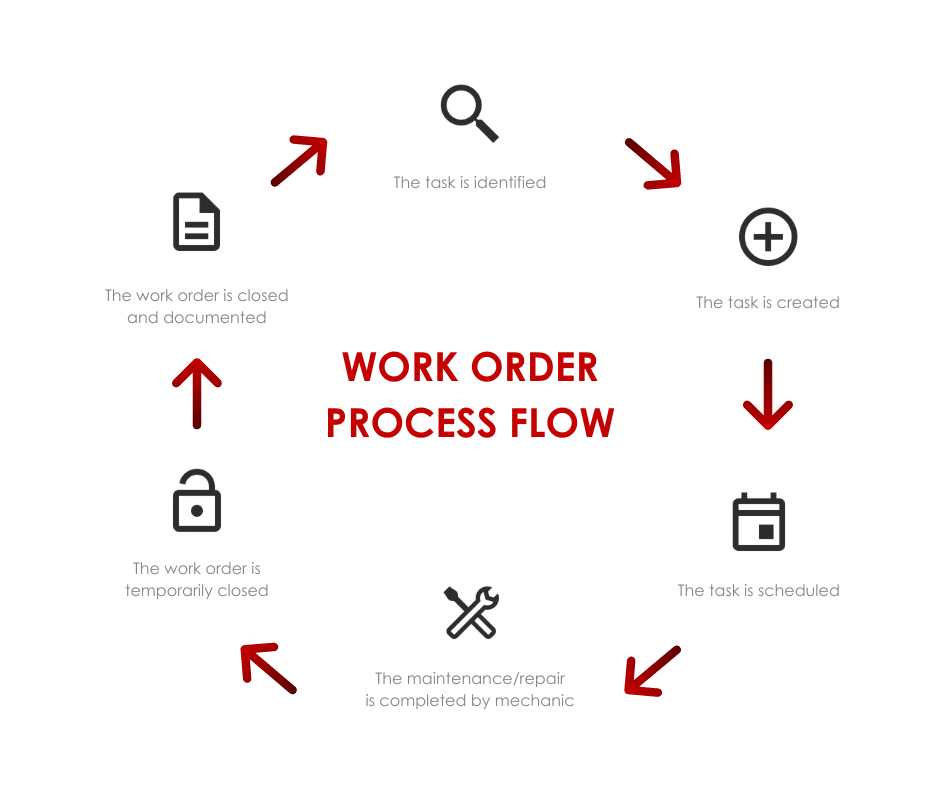 Step 1. The Task is Identified
There are 2 types of tasks that can be done, preventive (maintenance) or corrective (repair). A preventive maintenance task (PM Work Order) will be planned per difference frequency (odometer, hours, calendar, etc) to follow the government regulations, while a corrective task (Repair Work Order) would be an unplanned repair that needs to be done on a tractor, trailer or equipment. At this stage, your maintenance team will assess what exactly needs to be done and on which unit.
Step 2. The Task is Created
The right information is put on a repair or maintenance request in the system. It is recommended to use VMRS codes or vehicle maintenance reporting standards. These industry-standard codes will detail the reason why you are completing this task as well as what you are working on. For example, your reason could be preventive maintenance (PM) and your repair could be on the brakes (013). These codes will also be used to run reports. Once that is done, that repair or maintenance request will automatically go to your preventive and corrective maintenance planning board. The planning board is where all your repair and maintenance requests for your team will be located. It will act as your whiteboard, your "to-do list".
Step 3. The Task is Scheduled
Now that the repair or maintenance request is on the planning board, it is ready to be planned. It can be planned with a simple drag and drop to your in-house mechanic or to an external service supplier (external WO or PO). You can also plan tasks for your mobile repair units on the road. If the task is an unplanned repair, it can simply be manually entered in the fleet work order system by the mechanic.
Step 4. The Task is Completed by a Mechanic
The repair or maintenance task will be completed by your mechanics. They will simply have to log into the system with an RFID chip, click on the task they wish to complete, and start their work. Clicking on a task will automatically open a new work order and will start calculating the time of completion for that task. They can come back whenever they need to if they want to add parts to the work order. A good practice would be using a barcode system, which provides you with a real-time inventory management system. It allows your mechanics to quickly put a part on a work order by scanning it and automatically taking it out of the inventory. They can add comments and correction notes to the mechanic work order before starting another job.
Step 5. The Work Order is Temporarily Closed
Once the task is completed, the mechanic will simply have to click on a new task, which will temporarily close the work order (waiting for review) and stop the time for that specific task. This will also open a new work order for the new task, and start calculating the time of completion. This will provide you with complete workflow automation.
Step 6. The Work Order is Closed and Documented
After completion, a foreman or supervisor will review and approve all work orders done that day to make sure there are no errors that the mechanic didn't see. Every work order will not only be saved automatically in the system, but will also be attached to the unit in question for an easy and quick consultation.
What information Should be Included on a Mechanic Work Order?
A mechanic work order should include the following information:
Unit number: What tractor, truck, trailer or equipment will be worked on?
Work order type: Is it an internal or external work order?
Name of mechanic performing job: Who is completing this job?
VMRS codes: What are the reason and repair codes?
Branch name: What branch does the unit belong to?
Description of problem: What exactly happened to the unit?
Summary of work: What is the mechanic doing on the unit?
Dates: When it was created, when it was closed?
Parts used: What parts did the mechanic use?
Attached documents: Any related important documents should be attached to the work order.
Detailed costs list: What was the cost of the labour? Of the parts?
Here's an example of a paper mechanic work order: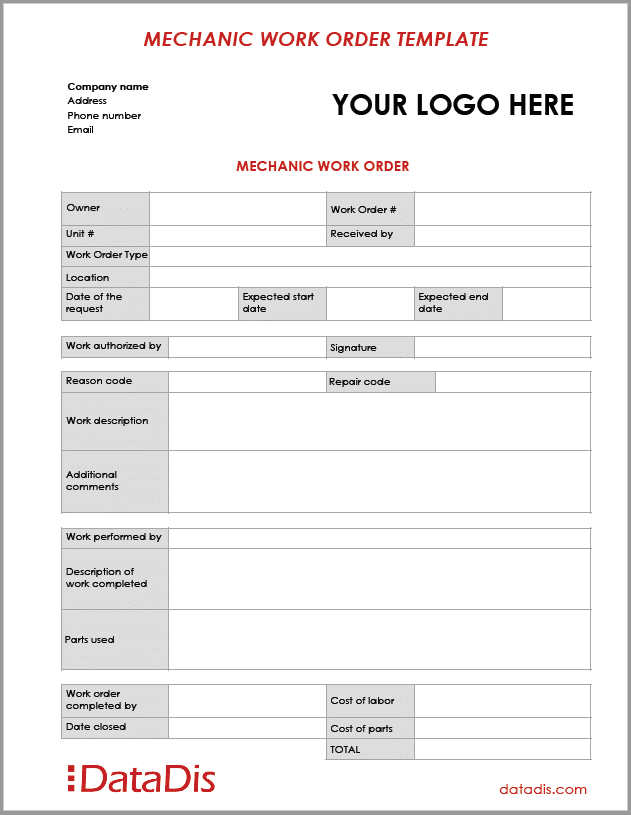 Download our free customizable Excel Heavy Vehicle Mechanic Work Order Template !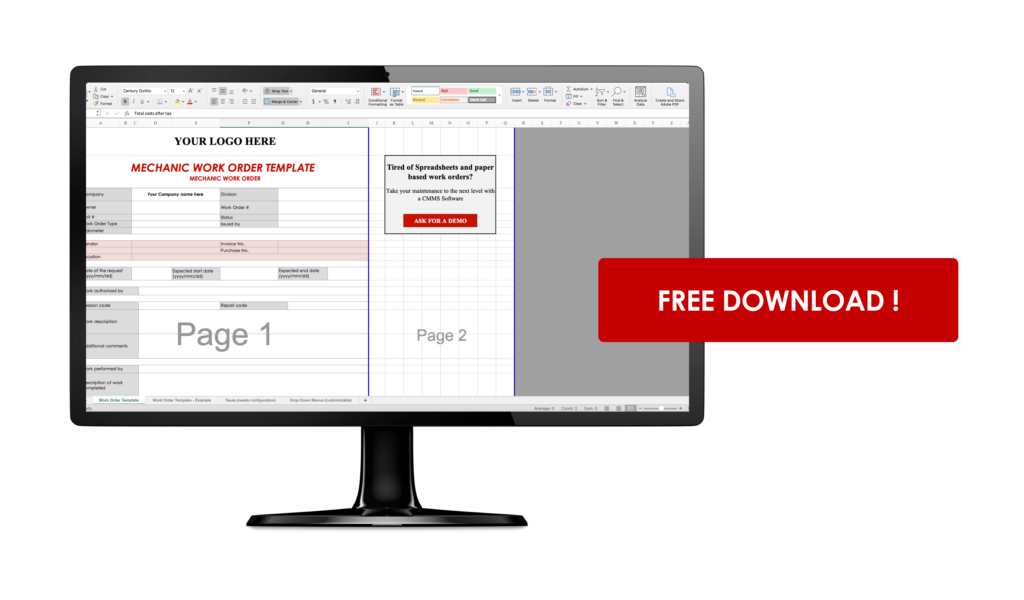 The Importance of Having a Fleet Maintenance Work Order Management Software
Using a paper work order system should be a thing of the past. Imagine having your mechanics manually enter all the information, then having the fleet manager trying to figure out what the mechanic wrote (was it a 4 or 9?), then having to file the work orders once completed. That whole process can be a true nightmare when you need to quickly find information for the management team.
Here's an example of a digital work order: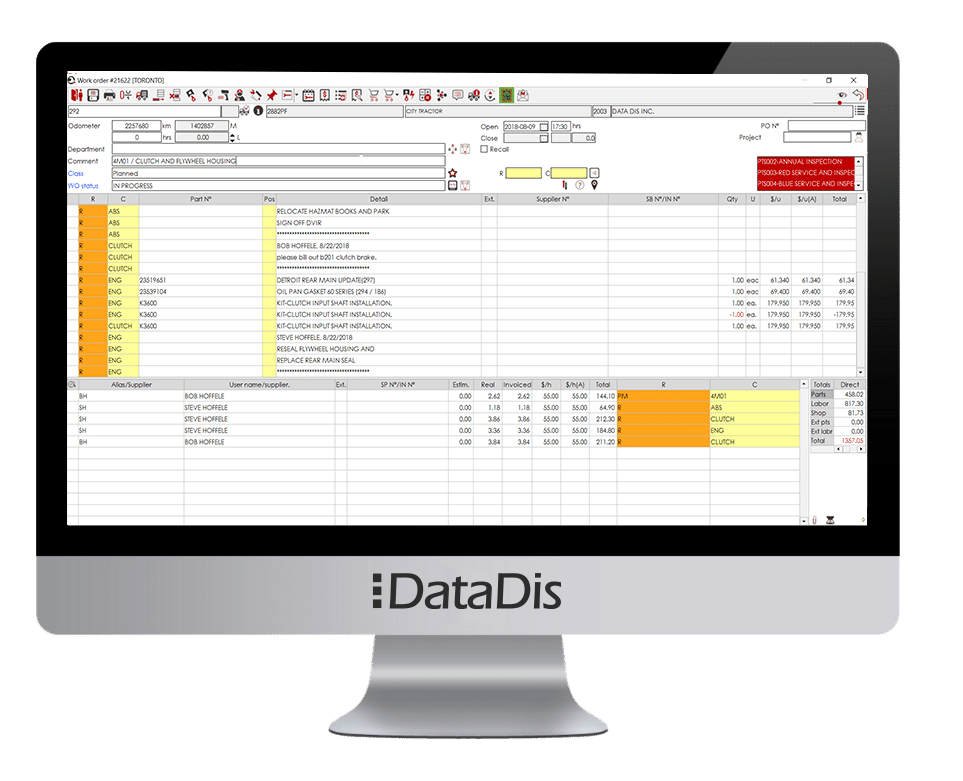 In order to be truly efficient, you need a solid work order management software in place to manage those work orders properly. It will not only organize your work orders, but will also automate them and bring your maintenance management to the next level. Having a good system in place will help your organization decrease your downtime, lower your fleet maintenance and repair costs as well as increase overall efficiency.
Conclusion
Work orders are the foundation of great maintenance. When managed in a proper manner, they bring stability, structure and efficiency to your team. Having a good work order system with all the right components will facilitate the creation of a preventive maintenance program.
Choosing the right software to help you with your work order management is crucial to assist you and your team in becoming the most profitable you can be. With the right tools, your fleet maintenance operation team will give your organization an edge over your competition who have not yet switched to an automated digital work order system.
Need more information? Interested in a Demo? Contact us!