Fleet and heavy equipment managers always look for ways to increase mechanical shop efficiency while reducing costs. By understanding the importance of accounting in maintenance management, how accounting integration with maintenance software works, its benefits, and potential challenges that may arise during integration, maintenance managers can ensure the successful implementation of this accounting integration.
The Importance of Accounting for Vehicle and Heavy Equipment Maintenance Managers
Accounting is an essential part of maintenance management, as it tracks and accounts for expenses and billing related to the maintenance of vehicles and heavy equipment. In addition, It helps identify areas of overspending and indicates where you can make budget cuts to improve efficiency, reduce costs and ensure tight control of accounts receivable.

In addition, the price increases we are currently experiencing are making life difficult for all industries, and mechanical maintenance is no exception. Prices for fuel, tire maintenance, and parts are skyrocketing, and if you can better plan your budget with effective expense and income tracking, you'll have a better chance of keeping your profit margins. Fortunately, most maintenance software solutions like MIR-RT already include a module addressing accounting directly in the software. However, the data entered in the system is not synchronized with the accounting software, and this is where the accounting bridge plays a decisive role.
How Can Integrating an Accounting System With Maintenance Software Streamline Operations?
Using an accounting bridge with your maintenance management system allows mechanical workshop managers to have a more global view of the financial health of their vehicles. This integration also makes it easier and more accurate to record vehicle maintenance expenses and revenues, which can help simplify the accounting process and make it easier to identify potential issues. Indeed, without an accounting integration, each accounting operation must be recorded in the maintenance software and the accounting system. Therefore, using this type of bridge becomes a golden opportunity to streamline processes and save a lot of time for accounting employees so that they can focus on tasks that require human intervention.

Furthermore, it is well known that different team members often manage accounting and maintenance. Therefore, communication and transcription errors are likely to occur more frequently without an integrated line of communication. Since accounting transactions are often irreversible, you want to avoid such mistakes.
Benefits of an Accounting Integration With Maintenance Software
This integration with maintenance software can offer more than just time savings for fleet and heavy equipment managers and accounting managers. First, the tracking of expenses and accounting information related to maintenance can be done in real-time, whether from the original accounting system or the maintenance software. This connection means fleet managers can make better decisions on spending their resources more efficiently without repeatedly requesting reports from the accounting team. The fact of not having to make double entries also avoids many errors of digits caused by inadvertence. It is even possible with an accounting bridge to configure error rules that will automate a specific part of the control of accounting operations for repetitive and easily identifiable errors.

Also, consider the ability of accounting integrations to push external work orders directly into accounts payable or to resume the process of the charter of accounts in the bridge so that the software detects the type of operations and assigns it to the correct General Ledger account automatically. It is even possible to manage inventory movements automatically. In short, all these features help you better manage the maintenance of your fleet of heavy vehicles and equipment by reducing the time spent on it.
Accounting Bridge Integration Process to The Maintenance Software
Now that you can see how indispensable an accounting integration is in maintenance management, it is customary to wonder where to start. But first, you should know that adding an accounting bridge to the maintenance software is a process that you can complete efficiently if you follow different steps: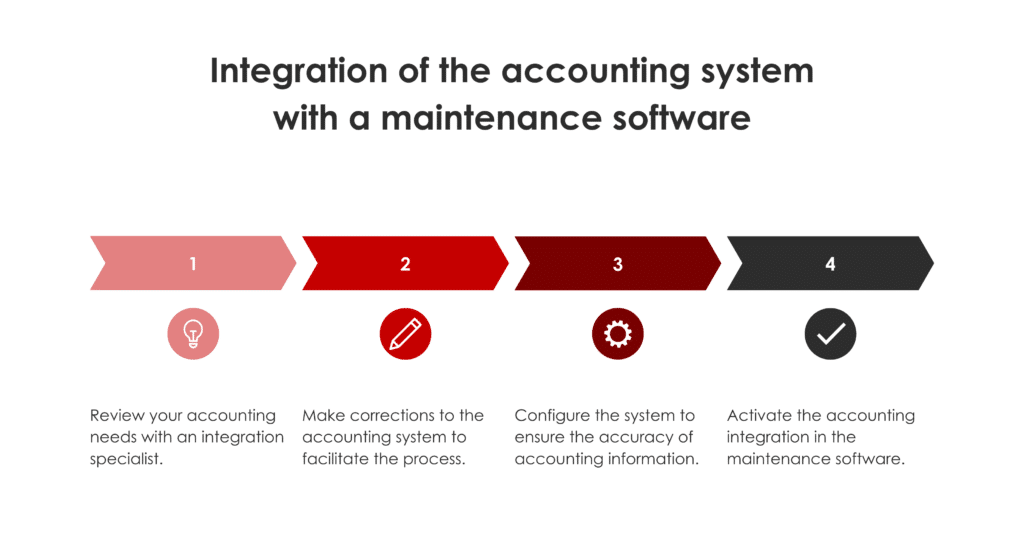 1- Review Accounting Needs
First, you should review your accounting needs with an integration specialist who can guide you through this transition. At DataDis, you can count on an experienced team dedicated exclusively to setting up and improving partnerships and integrations.
2- Make the Necessary Corrections
After identifying the options that best suit your organization, the specialist may suggest some accounting system corrections to facilitate the integration process. For example, he could recommend linking particular General Ledger accounts to correctly assign accounting transaction codes.
3- Configure the System
The next step is to properly configure the system to ensure the accuracy of accounting information.
4. Activate the Accounting Bridge
Then, it's time to activate the accounting integration on the maintenance software, which allows data exchange between the two systems. Accounting reports and analyses can be generated within the maintenance software, thus giving mechanical workshop managers an accurate overview of their maintenance-related expenses.
In short, the process may seem complicated, but if you use maintenance software like MIR-RT, the integration team will accompany you from A to Z and answer your questions.
3 Potential Challenges That May Arise When Implementing an Accounting Bridge
While integrating an accounting integration with maintenance software can provide many benefits, implementation can pose some challenges:
1- Absence of an Existing Accounting Bridge
In particular, not all accounting software integrates with specific maintenance software. If there is none with your current accounting solution, the process may take longer, but it's possible. The presence of a data integration gate in the accounting software determines whether your maintenance software is conducive to integration with your accounting system. If this is the case, a good integration team like that of DataDis will be able to proceed with implementing the bridge.
2- Multiple Accounting Systems
Another challenge that can complicate the implementation process is the presence of different accounting systems for each division of your organization. Therefore, the integration specialist accompanying you should use a more specific approach to suit your needs.
3- Reluctance to Change
Finally, a challenge that might arise is the reluctance of the people in charge of accounting, who will see their tasks modified. However, you should know that this change offers significant time saving and that instead of entering accounting operations twice, the controller will have to validate the data pushed from the maintenance software to the accounting system.
In short, you can now understand why relying on a maintenance software provider like DataDis, who is experienced, open to working on new integrations and attentive to your needs, is essential.
3 Best Practices for a Successful Accounting Bridge Implementation
1- Check Compatibility Beforehand
When integrating an accounting bridge with existing maintenance software, the first best practice is to ensure that the accounting system and the maintenance software are compatible. To do this, you can validate with your maintenance software provider.
2- Make a Gradual Transition
The second good practice is to make a gradual transition toward automated use of the integration. You can choose between a batch data import requiring your approval before completion or an automatic one without your intervention. To start, it is recommended to proceed in batches to get used to this new way of doing things and build your confidence in the system. Once you feel comfortable and have mastered the process, automated import can become very interesting to benefit from additional time savings.
3- Streamline the Number of Accounts
Finally, the last good practice to adopt is to rationalize the number of accounts that appear in the accounting charter and to refer to the maintenance software for more details regarding the description of the operations carried out.
Conclusion
Integrating accounting with existing maintenance software through an accounting bridge is a must to manage better fleet or mechanical workshop expenses and thus improve overall efficiency. To achieve this, it is essential to understand the importance of accounting in maintenance operations and how these can be simplified thanks to more automated accounting.

In short, if you plan to integrate your accounting system with successful maintenance software, the DataDis team, supplier of the MIR-RT software, is there to help you navigate through all these possibilities and ensure you have a successful accounting bridge implementation.
Ready to take it to the next level? Request a demo now: