Bring your maintenance to a whole new level with 540° Maintenance, a new web series presented by DataDis! Every month, Catherine Blackburn and Marjolaine Moisan will discuss different topics with various partners, associations and industry experts.
The original idea came from a discussion between our VP of Sales, Guillaume Laliberté, and the marketing department. At first, we taught of the name 360° Maintenance, but at DataDis, we exceed expectations. For us, 360° is not enough, we take your maintenance to 540°.
In this first episode, we talk about our strong partnership with ISAAC, we dive into our integration and discuss the industry with Samuel O'Neill, Business Development Manager at ISAAC Instruments.
Founded in 1999, ISAAC is a Canadian company that specializes in electronic logging devices (ECD) and telematics. ISAAC focuses its efforts on road transportation and more specifically trucking. Their mission is "To connect people and information by providing innovative turnkey solutions to drive truck fleet performance".
DataDis and ISAAC have been strategic partners for several years. The integration we have together is beneficial to many of our customers, thanks to its constant evolution and the assessment of market needs.
Here Are the 3 Main Features of Our Integration:
1. Automated Vehicle Odometer Update
Our solution, MIR-RT, automatically gets the truck's odometer from ISAAC, which allows better monitoring of maintenance schedules on all equipment and provides cost per distance travelled statistics.
2. Circle Check Defects Automation
When the driver performs his circle check and a defect is observed, the mechanical shop is notified in real time thanks to an automatic transmission of information. The mechanic can therefore plan his repair before the truck returns to the garage. When the repair is complete, the work order information is returned to ISAAC.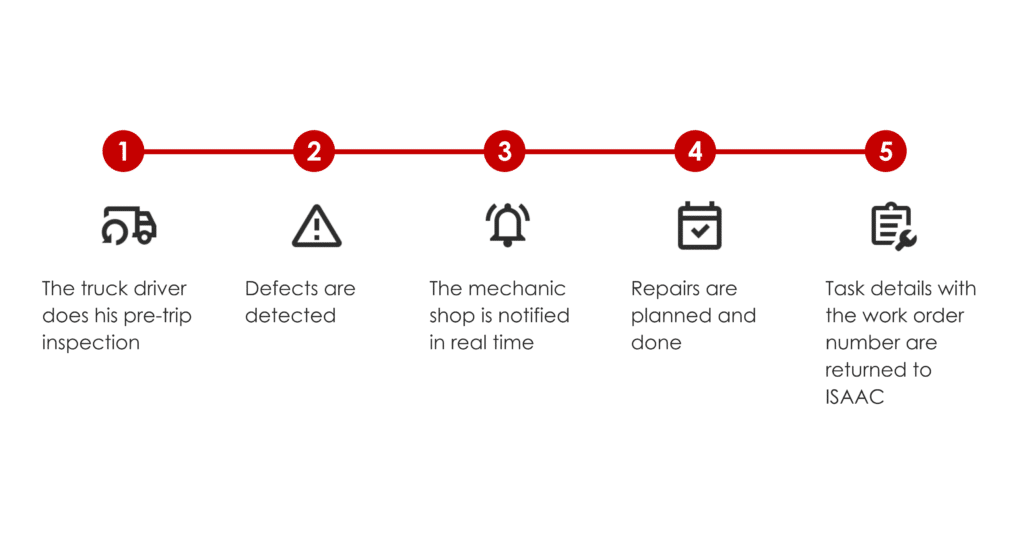 3. Geofencing Integration
With this integration, Fleet maintenance managers can see a list of the tasks to complete on units (whether they are preventive or corrective) and they can also see in real-time which vehicles are available in any of their yards. This feature allows them to take a proactive approach to maintenance.
Follow ISAAC Instruments on social media and stay up to date on the industry's latest news!
To reach Samuel O'Neill: soneill@isaacinstruments.com
If you want more information about our integration with ISAAC, please contact us, we will be happy to help with any questions.