The Canadian regulations on electronic logging devices (ELDs) will be coming into effect in January 2023, leading companies to review their process and change to digital. All drivers in Canada will have to use an electronic logging device (ELD) to record their working, driving and rest times. Using ELDs has several major advantages such as helping drivers stay safe on the job by preventing fatigue.
When it comes to ELDs, there are two things that you can never be too careful about: your vehicle and the safety of others. In Canada, drivers are required to complete and submit a daily vehicle inspection report before leaving. The Société de l'assurance automobile du Québec (SAAQ) describes a circle check as being "… a sight and sound inspection of the accessible components of a vehicle that makes it possible to: detect defects as early as possible, quickly notify the owner and operator of any defects detected, prevent the vehicle from being operated when its condition poses a risk of an accident or a breakdown"
Who is Subject to a Circle Check?
In Quebec, according to Société de l'assurance automobile du Québec (SAAQ), these are the vehicles subject to a circle check:
Vehicles with a gross vehicle weight rating (GVWR) of 4,500 kg or more

Examples: Ambulances, Cement mixers, Tank trucks, Fire trucks, Straight-body trucks, Snow removal trucks, Vans, Pickup trucks, Tow trucks, Semi-trailers, Road tractors, Emergency response vehicles, Equipment transport vehicles (compressors, well drills, concrete pumps, cranes mounted on a truck chassis)
Combinations of road vehicles that include at least one vehicle with a GVWR of 4,500 kg or more

Examples:

A pickup truck with a GVWR of less than 4,500 hitched to a trailer or semi-trailer with a GVWR of 4,500 kg or more
A pickup truck with a GVWR of 4,500 kg or more hitched to a trailer or semi-trailer with a GVWR of less than 4,500 kg
A pickup truck with a GVWR of 4,500 kg or more hitched to a trailer or semi-trailer with a GVWR of 4,500 kg or more (each vehicle in the combination has a GVWR of 4,500 kg or more)

Buses, minibuses and tow trucks (regardless of GVWR)

Examples: Motor coaches, Minibuses, School buses, Paratransit minibuses, City buses, Tow trucks (all types)

Road vehicles with a GVWR of less than 4,500 kg transporting dangerous substances and requiring the display of safety marks
Source : https://saaq.gouv.qc.ca/en/transportation-goods/heavy-vehicles/mechanical-inspection-and-maintenance/safety-standards-road-vehicles/circle-check
In Ontario, according to the Ontario Ministry of Transportation (MTO), these are the vehicles subject to a circle check:
Trucks, trailers and converter dollies, on their own or in combination, if the tractor or power unit has a total gross weight or registered gross weight of more than 4,500 kg
Buses designed to transport 10 or more passengers, and any trailer towed by one of these vehicles
Accessible buses modified to be used to transport persons with disabilities, if not being used for personal purposes only, and every trailer towed by one of these vehicles
School-purposes vehicles and buses operating under contract with a school board or other authority in charge of a school being used for the transportation of 6 or more children or adults with a developmental disability
Source : https://www.ontario.ca/page/commercial-vehicle-safety-requirements
The Difference Between a Paper and Digital Driver Vehicle Inspection (Circle Check)
There are two ways to complete a circle check: paper and digital.
Here is an example of a paper circle check: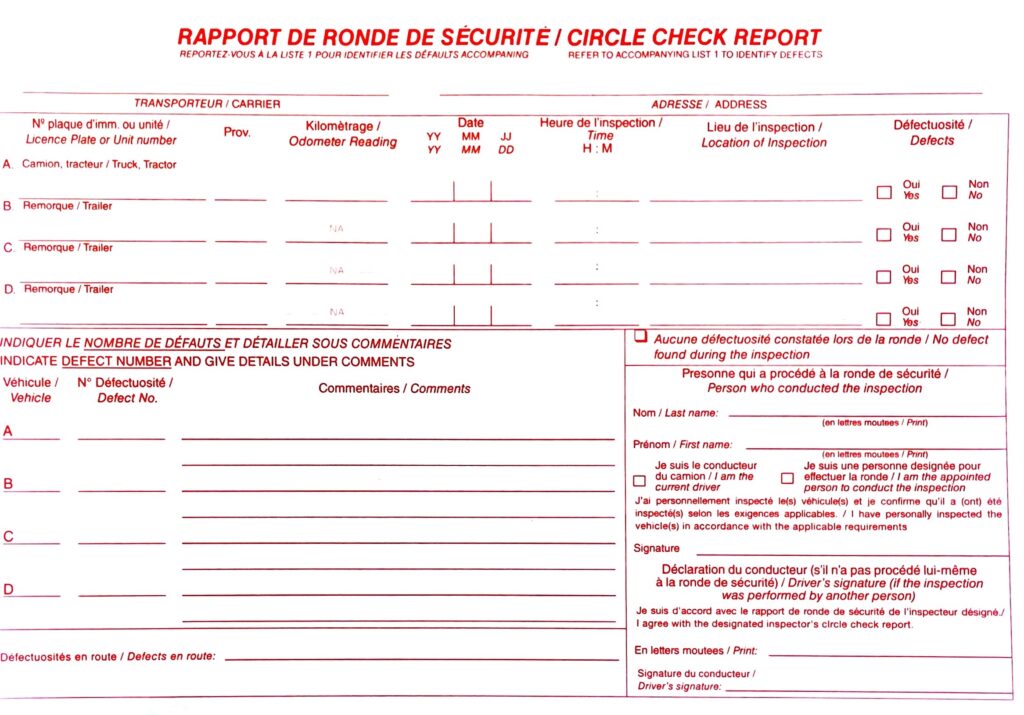 What is an Electronic Circle Check?
An electronic circle check allows users to record, compile and store vehicle inspection report information on electronic devices such as mobile phones, tablets and computers.
A circle check app like MIRCheck allows you to easily complete your fleet inspections and automate the entire process.
5 Benefits of Switching From Paper to Digital Circle Check
Digital (electronic) circle checks are designed to help drivers facilitate communication between the driver on the road and the mechanics in the garage. On a tablet, phone or computer, ELDs are easier to read, faster to complete and more compliant with regulations than paper circle checks. They are an essential tool to ensure that drivers comply with safety rules. Here are 5 main benefits of switching from a paper-based circle check to a digital one:
1- Information in Real-time
Inspection reports made using an electronic logging device (ELD) allows for quick and intuitive data submission before, during and after the trip. Reports are sent electronically directly to fleet managers, enabling real-time information gathering. With paper circle checks, it can be difficult to know which vehicles have been inspected and which have not. ELDs allow you to see immediately which vehicles have been inspected and which have not. Managers are thus able to ensure the compliance of their fleet with real-time access to information.
2- Avoid Errors and Loss of Onformation
ELDs facilitate data entry and assure managers that the information collected is readable and easily interpretable. When an anomaly is detected, it is sometimes difficult to fully understand the problem with paper security rounds. Papers can easily get lost or misplaced while ELDs are stored electronically and easily accessible. A good ELD will allow the driver to easily document non-conformities, either by taking a photo, recording a video, recording a sound effect or writing a detailed commentary.
3- Have Better Monitoring of Driver Performance
Going from paper to digital circle checks will also allow you to track your drivers on the road. Premature tire wear and increased fuel costs are usually linked to rapid acceleration, speeding and hard braking. By having access to productivity and compliance reports, the manager will be able to identify drivers at risk and offer them better supervision in order to reduce operational costs. No need to review hundreds of daily logs to ensure your fleet is compliant. The DCE highlights non-compliant units in real-time, saving you and the drivers a lot of wasted time.
4- Have Better Fleet Compliance
Driver inspection reports are required by law in many jurisdictions, so it is important to have a system that complies with all regulations. Digital DVIRs can help ensure compliance with all relevant laws. By making it easy to see which vehicles have been inspected and which have not, DVIRs can help minimize the chances of getting pulled over for a vehicle inspection violation.
5- Have Better Communication With the Mechanical Workshop
By integrating your telematics software with your maintenance software, the information will be synchronized automatically, which allows secure data transfer and better management of your fleet. The shop manager as well as the fleet manager will be able to track the location of the units at all times, thanks to telemetry. If a defect is reported en route, the garage is notified in real-time and a task is automatically created in the maintenance software. When the repair is done and the task completed, the unit and repair information will automatically return to the telemetry software. Facilitating communication between the driver and the garage, while allowing managers to monitor the performance and compliance of their fleet.
In this video, one of our experts discusses the benefits of integrating your telematics solution with your mechanical workshop management software.
Here Are the 4 Main Features of Our Integration With Telematics:
1- Circle Check Defects Automation
When the driver performs his circle check and a defect is observed, the mechanical shop is notified in real-time thanks to an automatic transmission of information. The mechanic can plan his repair before the truck returns to the garage. When the repair is complete, the work order information is returned to the telematics.
Here's How the Integration Works: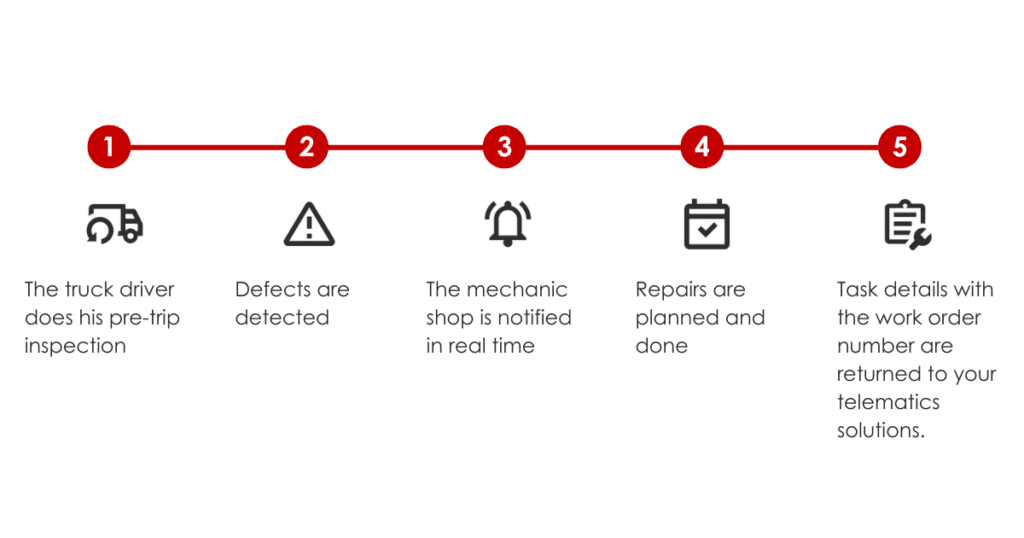 2- Automated Vehicle Odometer Update
Our solution, MIR-RT, automatically gets the truck's odometer from your telematics, which allows better monitoring of maintenance schedules on all equipment and provides cost per distance travelled statistics.
3- Geofencing Integration
With this integration, Fleet Maintenance Managers can see a list of the tasks to complete on units (whether they are preventive or corrective) and they can also see in real-time which vehicles are available in any of their yards. This feature allows them to take a proactive approach to maintenance.
4- Wheel Retorquing
Easily manage and track your wheel retorquing with communication between the mechanical shop and the driver.
Here Are Some Examples of Possible Integrations With Our Telematics Partners*: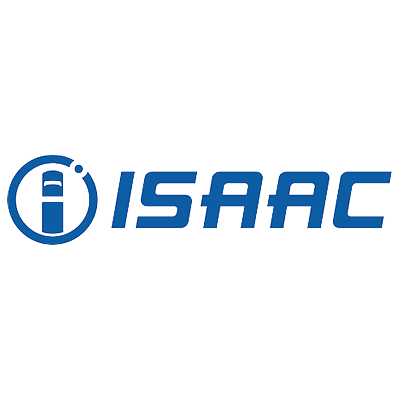 See all other possible integrations.
*The main features mentioned above are not necessarily available for all our partners.
Ready to take it to the next level? Request a demo now: